PHONE: 301-475-9791
Commissioners of Leonardtown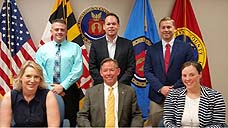 Front row: Council Member Thomas Combs, Mayor Dan Burris, Vice President Leslie Roberts
Back row: Council Members Jay Mattingly, Hayden Hammett, Roger Mattingly

(Links Open In A New Window)
Property Tax Collectors/Payments
The Town of Leonardtown utilizes an online service called Auto Agent Software to provide information on property taxes, the amount, in the process of being paid or have been paid to avoid duplication.
Town Council Meetings and Minutes
Planning and Zoning Meetings and Minutes
Leonardtown Resident Emergency Notification
Click Here To Subscribe

Winery, Wharf, Water Trails

Take a virtual tour of Leonardtown, complete with business and service information, via our new 3D map. The map features both street and aerial views for your convenience.
Click to Visit Leonardtown!

The Leonardtown real property tax invoices were mailed on August 15th. If you have not received an invoice by August 31st, please contact the Town Office.
Please use the following mailing address - P.O. Box 1751. This is different from the address used for making utility payments. If you use online banking to make payments, you must also change the remittance address; otherwise, the payment will be posted to your Town utility account.
Credit card payments are not accepted for property taxes. Do not use the online utility billing payment portal to make tax payments.
Please call the Town Office if you have any questions.
---
Legal Notice
Fair Summary of Ordinance No. 178 and 179
---
Beach Party Vendor Space Agreement Form
---
---
Request for Proposals
Click for current opportunities
---
Now Residents Can Pay Their Utility Bill Online!
Click Here
Utility Bill Payment Portal FAQs
Click Here
---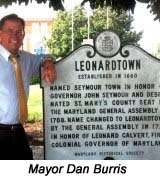 Leonardtown has been described in many ways; small town charm, quaint, tranquil with historic roots. One of the best surprises is the hidden upscale draws. More than once described as a cross between Mayberry and Annapolis! With over 300 years of history there are plenty of historical sites to visit. But there is plenty more to do from outdoor life to shopping and dining. The downtown square, one of the few remaining intact in Maryland today, is a beautiful gathering place for residents and visitors. Whether it is for one of the numerous public events held annually there or just a quiet stroll along the brick paved sidewalks.
There is much more of the Leonardtown story to tell. Explore this website or better yet come enjoy an afternoon exploring Leonardtown. It is definitely worth the trip!
Printable Calendar of Events for 2016
Leonardtown Business Association
Leonardtown A Most Convenient Place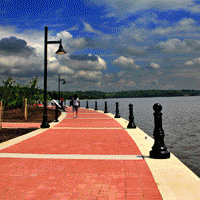 First Fridays In Leonardtown
First Friday of Every Month, 5pm - 8pm
Many shops, galleries and restaurants have joined together to celebrate First Fridays in Leonardtown. New businesses are joining the party every month! Join us for Art, food, shopping and socializing while exploring the nooks and crannies of Leonardtown. Visit the First Fridays website for detailed information.
---