A GUIDE TO LOCAL
BUSINESS AND SERVICES
---
Leonardtown Business Association
Façade Improvement
Grant III 2022
Winter is a great time for planning to spruce up your business/building's façade. Now is the time to get inspired as the Town of Leonardtown has received a grant through the Community Legacy Program with the State of Maryland for funding in specific targeted areas of downtown Leonardtown. Funds are available to help make your ideas a reality. Deadline is April 1, 2022 so don't delay.
Leonardtown Facade Workshop Presentation
Facade Improvement Grant III 2022 Guidelines
Facade Improvement Grant III 2022 Application

Interior Design and Fine Furniture
---
Local and Community Businesses
Leonardtown is home to many businesses that have been located in the Town for several generations. Employment in the area is generally government related, as town, county, and state facilities are all located in Leonardtown. NAWCAD Patuxent River is located approximately 8 miles west of the Town.


First Fridays In Leonardtown
First Friday of Every Month, 5pm - 8pm
Many shops, galleries and restaurants have joined together to celebrate First Fridays in Leonardtown. New businesses are joining the party every month! Join us for Art, food, shopping and socializing while exploring the nooks and crannies of Leonardtown. Visit the First Fridays website for detailed information.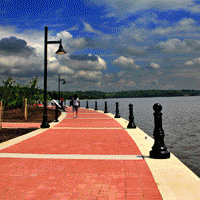 ---