PHONE: 301-475-9791

(Links Open In A New Window)
Town Council Meetings and Minutes
Planning & Zoning Meetings and Minutes
Leonardtown Resident Emergency Notification
Click Here To Subscribe

Winery, Wharf, Water Trails

Town Council Meeting
Monday, February 9, 2015 at 4:00 p.m.
---
Cancellation of Scheduled Public Hearing
The Commissioners of Leonardtown public hearing originally scheduled for Monday, February 9, 2015 at 4:15 p.m. at the Town Office, 41660 Courthouse Drive, regarding the rezoning request for Tax Map 32, Parcels 178 and 314 (Gough Property Rezoning) has been cancelled. The request has been withdrawn.
---
Notice of Public Hearing
The Commissioners of Leonardtown will hold a public hearing on Monday, February 9, 2015 at 4:30 p.m. at the Town Office, 41660 Courthouse Drive, Leonardtown, Maryland, regarding a request for concept plan approval for the Medstar St. Mary's Hospital Quad House project located at 41500 Doctors Crossing Road – Map 127, Parcel 527.
---
Town Office will be closed on Monday, February 16 for President's Day
---
Planning and Zoning Commission Meeting
Moved to Tuesday, February 17, 2015 at 4:00 p.m.
Public Hearing at 4:05 p.m. on Update to Comprehensive Plan
---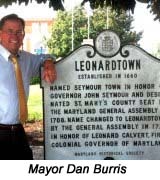 Leonardtown has been described in many ways; small town charm, quaint, tranquil with historic roots. One of the best surprises is the hidden upscale draws. More than once described as a cross between Mayberry and Annapolis! With over 300 years of history there are plenty of historical sites to visit. But there is plenty more to do from outdoor life to shopping and dining. The downtown square, one of the few remaining intact in Maryland today, is a beautiful gathering place for residents and visitors. Whether it is for one of the numerous public events held annually there or just a quiet stroll along the brick paved sidewalks.
The downtown square boasts numerous restaurants to suit any palate! For the shopping enthusiasts there are specialty shops and galleries, antique stores, a used book and music store, a health food store and artisan shops. The newly opened Leonardtown Arts Center is home to several artists that not only sell their wares but also demonstrate their art. The Maryland Antique Center features numerous antique and art dealers all under one roof. Visit our award winning Port of Leonardtown Winery or paddle our nearly 3 mile water trail to Leonardtown Wharf Public Park.
There is much more of the Leonardtown story to tell. Explore this website or better yet come enjoy an afternoon exploring Leonardtown. It is definitely worth the trip!
Printable Calendar of Events for 2014
Leonardtown Business Association
Leonardtown A Most Convenient Place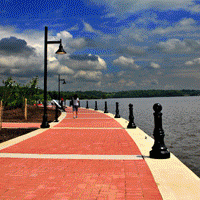 First Fridays In Leonardtown
First Friday of Every Month, 5pm - 8pm
Many shops, galleries and restaurants have joined together to celebrate First Fridays in Leonardtown. New businesses are joining the party every month! Join us for Art, food, shopping and socializing while exploring the nooks and crannies of Leonardtown. Visit the First Fridays website for detailed information.
Leonardtown Farmers Market
Finch Family Farms
Fridays 11:00am - 5:30p.m.
Longer on First Friday's
In front of the alley between Fuzzy Farmer's and Cafe des Artistes
---