Christmas on the Square and Annual Tree Lighting Ceremony
<![if !vml]>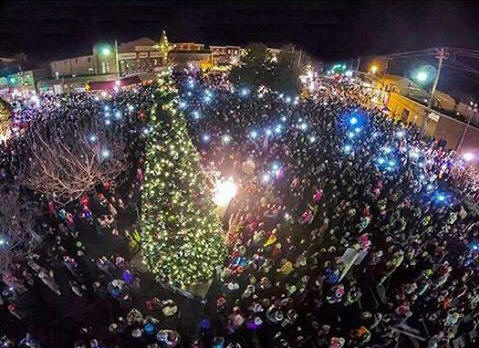 <![endif]>
Friday, November 29, 2019
4:30 PM – 8:30 PM
Location:
The event takes place in Historic Downtown Leonardtown Square
(22670 Washington Street, Leonardtown, MD 20650)
Parking Map:
(click for full size)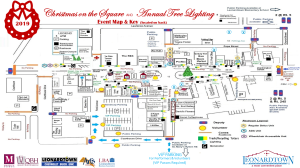 Event Details:
The Town of Leonardtown will ring in the holiday season on Friday, November 29th from 4:30 PM – 8:30 PM with the traditional "Christmas on the Square and Annual Tree Lighting Ceremony". Event activities start at 4:30 PM and include live entertainment, rides, face painting, a living nativity, food and much more! Come early so you have time to park and make your way to the Square promptly at 7:00 PM for Santa's arrival and the lighting of the Town Christmas Tree!
This event is brought to the public thanks to the cooperative efforts of Town officials, the St. Mary's County Sheriff's Office, the St. Mary's County Emergency Management Division, Maryland State Police, St. Mary's County Fire and Rescue Chiefs, the Leonardtown Volunteer Fire Department and other local volunteer fire departments and rescue squads. For more information contact: brandy.blackstone@leonardtownmd.gov or 301-475-9791
Road Closure, Parking, and Shuttles:
The roads will close for the event from 2:00 p.m. - 11:00 p.m. Parking will be available at CSM and at the Governmental Center. You can park there and take the free shuttles into the event (the shuttle stop is in front of St. Aloysius Church).
Handicap Parking is available at the parking lot next to The Hair Company and across from the hotel on Park Avenue as shown on the attached map.
Residents: Residents are asked to enter and exit by Lawrence Avenue at the back of Town.
Overflow parking is available at the following locations: Ryken High School, Blackbelt Academy Lot on Gregory Avenue, the grass lots on either side of Courthouse Drive, Leonardtown High School, the dirt parking lot across from Mattingly Gardiner Funeral Home on Lawrence Avenue, and the paved parking lot across from the funeral parlor on Fenwick Street (Note: if there is a funeral, the lot will be unavailable. There will be reserved signs posted in this instance).
Inclement Weather Plan:
In the event of inclement weather, the event will be cancelled. Only the tree lighting will take place on the Rain Date of Saturday, November 30th at 7:00 p.m. We are hoping for great weather and hear that it's likely. A decision will be made by 10:00 a.m. on the day of the event on Friday, November 29th if the event will be cancelled, and an announcement will be made on the Town's Website (https://www.leonardtown.somd.com/) and Facebook Page (https://www.facebook.com/TownofLeonardtown/).