Leonardtown Memorabilia
Leonardtown Mural Prints
Read About the Mural

Unsigned Print - $15.90
($15.00 + 6% tax)

Signed Print - $53.00
($50.00 +6% tax)

Unsigned Matted Print - $45.58
($15.00 +$28.00 + 6% tax)

Signed Matted Print - $82.68
($50.00 + 28.00 + 6% tax)
Mural Size is 2' 2" x 10"
With Matting Size is 2' 6" x 1' 2"
Mat colors are: Rose, Dark Green, Tan
---
A Most Convenient Place
Leonardtown, Maryland
1650 - 1950
by Aleck Loker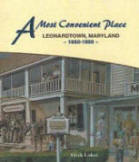 Aleck Loker has written a comprehensive history of Leonardtown, the county seat of St. Mary's County. The book traces the development of the town from a colonial concept for a second town in St. Mary's County dating back to the very beginning of the colony and the county. The story develops through the conflicts that beset colonial Maryland and the several wars that left their imprint on this land, starting with the Revolutionary War, up through the Civil War. The author describes how the town grew economically and socially through the 19th and early 20th centuries and illustrates the impact of the two world wars on Leonardtown.

The book is lavishly illustrated with old photographs, maps and charts. Extensive reference notes follow each chapter, and a 14 page index contains thousands of surname and subject references. The format is 8 1/2 by 11 inches, more than 240 pages, with approximately 100 photographs. The book is case bound and the covers incorporate a four-color adaptation of the Leonardtown mural.

Those interested in local history will find this book entertaining reading a well as highly informative. It will have wide appeal in the Southern Maryland market. The retail price of the book is $40.00 plus 6% sales tax.
---
Captain Walter Francis Duke, A.A.F.
1922-1944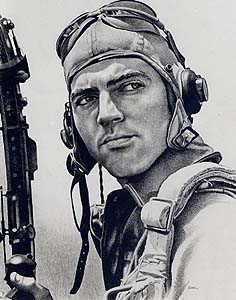 On June 6, 1944, ace Army pilot Capt. Walter Francis Duke of Leonardtown was shot down in combat over Burma in World War II. He was the #1 flying Ace of the 459th Squadron, but when he turned back to look for his wing man, he was ambushed by Japanese planes. Capt. Duke's body was never found and he was declared MIA at the age of 22.
December 2012, Capt. Duke's family was notified that a P-38 aircraft with numbers that matched his plane had been discovered and that the remains of his body may have been located in a jungle in the country known today as Myanmar. His family and friends are now expecting that his remains will be coming home soon. Walter was the son of Mayor Roland B. and Lillian Duke, also of Leonardtown.
The" Capt. Walter Francis Duke" Elementary School recently named in his honor will open late 2015.
A special presentation was made during the March 2013 Town Council meeting by Mr. Pete Wigginton who donated and print of the WWII Memorial in Washington, DC. Included within the frame is the Captain Walter Duke coin presenting both the front and the back of the coin. Mr. Wigginton worked with a good friend, Mr. Chip Forbes, of C. Forbes, Inc. who also donated his time to design and manufacture the coin and presented each of the remaining family members of Captain Duke's family with a coin in remembrance.
Now Available for Purchase
Captain Walter Francis Duke A.A.F. Coins ~ $13.50 per coin
$12.74 coin cost
+ .76 sales tax
$13.50 total cost