Leonardtown, a Most Convenient Place to get hitched with its historic "old fashioned charm".
Leonardtown Wedding Venue FAQ
Facility Rental Application Form
Special Event Application Form
Services Available
Wedding Resources
Wedding Venues In St. Mary's County
St. Mary's County, MD Destination Wedding Guide
Suggested Locations:
Leonardtown Wharf Park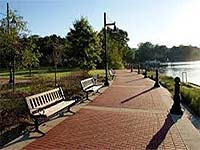 Leonardtown Wharf features sweeping views of Breton Bay, beautifully landscaped grounds and magnificent sunsets. Flags flow with the breeze above the gorgeous brick paved Compass Rose which provides a beautiful and elegant setting for a lovely wedding ceremony or hosting an outdoor reception in the large grassy field.
Port of Leonardtown Winery and Public Park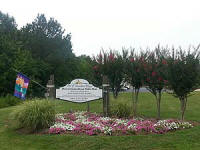 A little known secret is the Port of Leonardtown Public Park which sits beside the McIntosh Run and a wooded trail that houses bald eagles, Baltimore Orioles, wild turkeys and many other bird species. This spacious open park is surrounded by beautiful landscaping and a picturesque, award-winning Winery.
Historic Square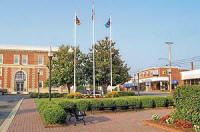 Magnolia trees frame the Town's historic square, and the War Memorial Monuments commemorate those who have fallen but are not forgotten. The grassy green Town Square is also surrounded by a quaint skyline of different architectural periods and several restaurants suitable for a rehearsal dinner before or a small reception after your ceremony.
Circuit Courthouse Lawn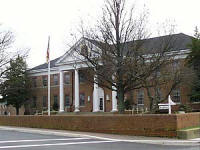 Rich in the tradition and history of Maryland, the Office of Clerk of the Circuit Court is one of the oldest public institutions in the state. Many smaller ceremonies are held under the stately trees encircled by an ornamental brick wall and bordered by the Old Jail, a rustic stone building built in 1858 and used until 1942 when it became a museum. Also displayed on the grounds, is a cannon from The Ark, one of two ships that first brought colonists to Maryland, and were later used to defend St. Mary's City.
The Town has all the things a bride and groom needs: hotels, banquet rooms, florists, fine dining, caterers, unique shops, art

galleries, print shops, transportation and one of the most desired wedding location is down at the Wharf right on the waterfront.
Your guests can stay the weekend and stroll along the streets, meander through specialty shops, enjoy a leisurely meal in a unique setting, relax down at the waterfront before the big day and make plans to come back to enjoy one of the numerous family town events.
What makes Leonardtown stand out, be so unique and attractive as a wedding destination? Once you arrive, you don't need to drive, you simply

walk everywhere.
Leonardtown is one of the oldest county seats in America. Historic sites that provide endless photo opportunities all within walking distance of each other. Leonardtown is rich in historical buildings reflecting many architectural styles – Folk-Victorian, Federal, Gothic, Picture Box and Colonial. Favorite spots include Tudor Hall Mansion, the Old Jail, and the Courthouse. Local business surround the beautiful Town Square and just down the hill right to the water's edge is the Wharf and the scenic waterfront view of Breton Bay.
Are you dreaming of simple or formal, small or large, inside or outside location, unique or traditional; you can have your dream wedding in the most convenient place, Leonardtown.