LEONARDTOWN FLAG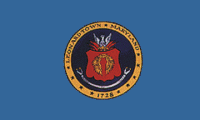 By order of the Governor's Council in 1694, each county was designated a flag of a certain color to represent its militia contingent. Leonardtown is the County Seat of Government in St. Mary's County and since two greens were laid out in the center of the town for militia to practice military drill, Leonardtown has become the guardian of the colors.
On July 4, 1975, a Resolution was written describing the Leonardtown Flag. A plain read rectangle 2 feet high by 3 feet wide in size, completely bordered with gold fringe, (one inch in length), and bearing in the center of the field the seal of Leonardtown, already described, 1/5 the height of the field. The seal is to be found on both the obverse and reverse sides of the rectangle.
The Leonardtown Flag was then later changed by motion on April 10, 1989, because it resembles the County's flag. The staff chose the color blue as the background to make it more distinguishable from the County's. The seal in the center of the flag would be Seymour Coat of Arms. The motion was pass unanimously.
MARYLAND'S FLAG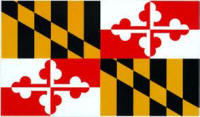 This flag bears Governor Leonard Calvert's fathers family name of Calvert by the "Calvert Coat of Arms (the yellow & black colors). " The first Governors father was George Calvert, who was given the title of the first Lord Baltimore by King Charles I of England. George Calverts' mother's name was Crossland and it is represented in the "Crossland Coast of Arms (the red white colors)."
This flag in its present form was first sued about 1886. It was officially adopted in 1904. The Cross Bottony affixed the top of the flagstaff became the official ornament in 1945. According to Maryland Law, the Annotated Code of Maryland, ever Maryland flag flow by itself, is suppose to have a gold cross bottony at the top of it. If the Maryland flag is flown with the American flag, or if it if flow on a cross-shaped flagpole, then it is not required. Maryland state law reads:
13.203 ORNAMENT

"ONLY A GOLD CROSS BOTTONY MAY BE USED AS AN ORNAMENT ON THE TOPE OF A FLAGSTAFF THAT CARRIES THE STATE FLAG."
(An code 1957, art. 41, @74; 1984, ch. 284, @1.)