Tudor Hall (Historical Society)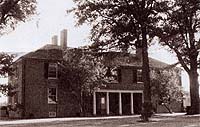 Overlooking Breton Bay stands the Georgian-style Tudor Hall Mansion. This house has served as a private home, public library, Town Hall and presently houses the St. Mary's Historical Society. The mansion was constructed on a 1,096 acre Tidewater plantation that shared boundaries with the county seat of Leonardtown.
The original land grant was issued in 1649. This tract was referred to as "Little St. Lawrence," and on later rent rolls as "Shepard's Old Fields." In 1744, the land was resurveyed and patented to Colonel Abraham Barnes, who changed the name to America Felix Secundus. The house, started sometime before 1744, was small with a central hall and a room on either side. The second floor had dormered bedrooms. The dependencies for the house would have been separate, typical of plantation homes, consisting of a kitchen, laundry unit, a garden house, slave quarters, and perhaps even an office. Col. Barnes served the town, county and state in a variety of positions as well as being the tobacco inspector for the Port of Leonardtown. By 1776, Col. Barnes was defending the County against the invasion by the British Fleet. He died during the War of Independence and his estate was bequeathed to his youngest son, Richard.
In the early 19th century, the roof of each wing was raised to two stories, and the roof of the main block was altered to the present hipped form. Unusual features of the house are the inset portico or loggia on the front of the house, the hanging staircase in the main hall and the rooftop captain's walk. From 1817 until 1950, the Key family, relatives of Francis Scott Key, author of the Star Spangled Banner, owned the house. Today, the Historical Society operates a research center, office and bookstore in the mansion.