The Town of Leonardtown holds an election every other year. The Town election was held on May 1, 2018. The officers will be sworn into office at the regular monthly Town Council meeting.
Next Election – May 5, 2020
Commissioners of Leonardtown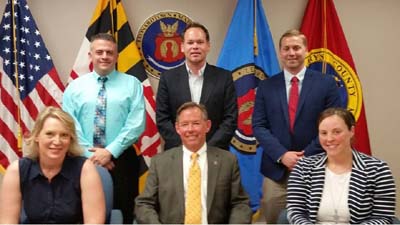 Front Row: Council Member, Mary Maday Slade; Mayor, Dan Burris; Council Member, Christy Hollander.
Back Row: Council Members: Jay Mattingly, Hayden Hammett, and Tyler Alt.
All the legislative powers of the Town are vested in the Mayor and Council, which consists of one Mayor and five Council Members. These officers are elected and receive a small stipend. The Mayor and Council Members are responsible for the hiring of the Town Administrator, appointment of the Treasurer, Town Attorney and all standing Commissions and Committees. The Mayor and Council Members and their terms are listed below:
Mayor Daniel W. Burris
Term Ends May 2020
Tyler Alt
Term Ends May 2022
Hayden T. Hammett
Term Ends May 20

20

Christy Hollander
Term Ends May 2022
J. Maguire "Jay" Mattingly IV
Term Ends May 20

20

Mary Maday Slade
Term Ends May 2022