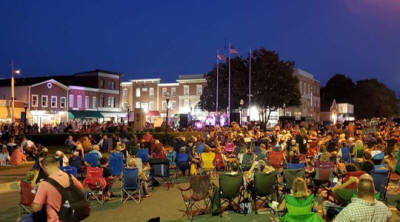 ANNOUNCING THE 2021 LEONARDTOWN SUMMER MUSIC FESTIVAL
Enjoy FREE Concerts, Dancing, Great Food, Raffles, Prizes and More!
The Commissioners of Leonardtown, the Leonardtown Business Association and the St. Mary's County Arts Council are proud to announce the return of the Leonardtown Summer Music Festival! Leonardtown will host a summer of FREE, live outdoor concerts featuring an exciting lineup of Southern Maryland artists including the Robbie Boothe Band, Phillip Michael Parsons, Sam Grow, the Amish Outlaws and more throughout the Town from June – October 2021.
For a complete list of music in Leonardtown visit: VisitLeonardtownMD.com/LeonardtownMusicFest.