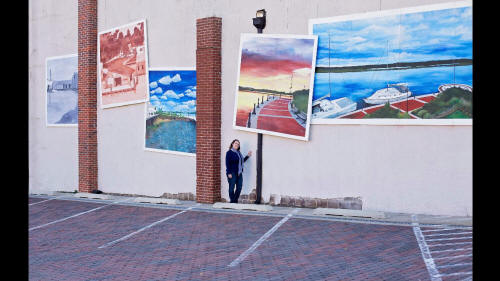 Mural Public Art Project - October 2017
Earlier this year a second public art grant was received by the St. Mary's Arts Council and the Leonardtown A&E District to commission an additional art piece. The north wall of The Hair Company building was generously offered by Jackie Buckler, owner of the building, to become the home for this new project. Drawing attention to our waterfront at Leonardtown Wharf was the theme selected by the committee who chose artist Jamie Naluai's beautiful proposed mural. This stunning 5 panel illustration of the history of the Wharf has been installed and can be enjoyed by all. The prominent visibility of this mural will lead visitors to explore our beautiful waterfront jewel. Jamie is another example of our many talented local artists.
---
Leonardtown's Arts & Entertainment District Anniversary Celebration – September 2017
A fun temporary art Leonardtown mural was created by Carrie Patterson and her community art students.