Leonardtown Memorabilia
Captain Walter Francis Duke, A.A.F.
1922-1944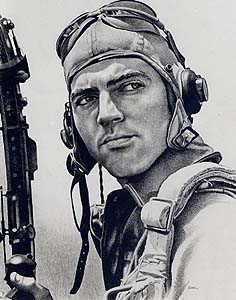 On June 6, 1944, ace Army pilot Capt. Walter Francis Duke of Leonardtown was shot down in combat over Burma in World War II. He was the #1 flying Ace of the 459th Squadron, but when he turned back to look for his wing man, he was ambushed by Japanese planes. Capt. Duke's body was never found and he was declared MIA at the age of 22.
December 2012, Capt. Duke's family was notified that a P-38 aircraft with numbers that matched his plane had been discovered and that the remains of his body may have been located in a jungle in the country known today as Myanmar. His family and friends are now expecting that his remains will be coming home soon. Walter was the son of Mayor Roland B. and Lillian Duke, also of Leonardtown.
The" Capt. Walter Francis Duke" Elementary School recently named in his honor will open late 2015.
A special presentation was made during the March 2013 Town Council meeting by Mr. Pete Wigginton who donated and print of the WWII Memorial in Washington, DC. Included within the frame is the Captain Walter Duke coin presenting both the front and the back of the coin. Mr. Wigginton worked with a good friend, Mr. Chip Forbes, of C. Forbes, Inc. who also donated his time to design and manufacture the coin and presented each of the remaining family members of Captain Duke's family with a coin in remembrance.
Now Available for Purchase
Captain Walter Francis Duke A.A.F. Coins ~ $13.50 per coin
$12.74 coin cost
+ .76 sales tax
$13.50 total cost